Catholic News Service (CNS) is featuring Father Spitzer and Credible Catholic as one of their top stories today. The article provides an excellent summary of the project, and points to Father's efforts to stem the flood of young Catholics leaving the church.
The article, entitled Jesuit aims to stem decline of faith with launch of catechetical website, highlights not only the learning modules of Credible Catholic, but also their reason for existing:
Father Spitzer's foray into a multidisciplinary catechetical website sprung from his growing concern that religious affiliation is declining, due in large part, he believes, to the influence, particularly on youth, of "secular myths that misstate and/or misrepresent the facts."

These myths include "science has proven God does not exist," "humans are just a bunch of conglomerated atoms and molecules," "suffering proves God does not exist," and Jesus was "a very special person but he certainly was not divine."
Catholic News Service also included some remarks from educators such as Anne Steinemann, professor of civil and environmental engineering at the University of Melbourne, Australia.
"Science can explain 'what,' but it cannot answer the question, 'Why?' Credible Catholic is effective, easy and exciting. It answers, head on, the typical objections to the Catholic faith."

"Students," said Steinemann, "can view the presentations on their own time, on their own device, in their own way. In the age of information overload, and trying to get students' attention, this does."
Since it's launch, Credible Catholic has met with great success, and continues to grow. Just this past June, 80 U.S. bishops signed on to use the modules in their diocese.
To learn more about Credible Catholic, check out their website.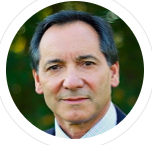 Formerly a marketing and product executive for early stage technology companies, Joseph G. Miller made the transition to full time Catholic evangelization in 2007. Prior to joining Magis he served as a vice president and board member for the Fellowship of Catholic University Students (FOCUS). With Magis, Joe leads the organization's digital outreach. He also serves on the Magis Center's Board of Directors, He holds a Master of Arts in Philosophy from Holy Apostles College and Seminary in Cromwell, CT and a Master of Arts in Theology from Notre Dame Graduate School in Alexandria, VA.